Amazon seeks warehouses in Australia
Written on the 7 March 2017 by Dave Mitchell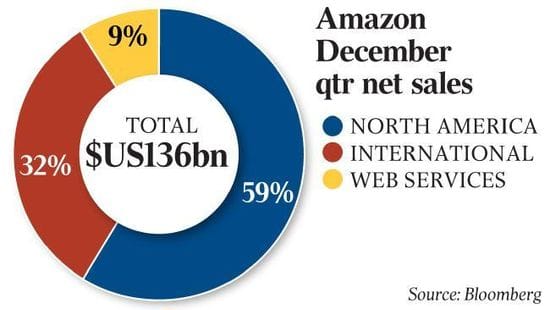 US online retail powerhouse Amazon has advanced its plans to set up an Australian operation by launching a process to appoint a real estate firm to find the company a chain of distribution centres.
The prospect of Amazon's entry has local retailers crying foul, with retail tycoon Gerry Harvey yesterday slamming the company as "not a good corporate citizen" and accusing it of having long-term plans to control the market via predatory pricing.
The Harvey Norman boss warned Amazon might struggle to distribute its products locally and would have to set up across Australia or land its customers with hefty transport bills.
Amazon, which has assessed setting up locally for some years, appears well aware of the problem and is now seeking an industrial property agent to find a network of storage sheds from which it can distribute its products.
Groups likely to be in the running include Jones Lang LaSalle, Colliers International, CBRE and Knight Frank, but executives said the US group was not well advanced in its dealings.
The move to hire a real estate agent adds fuel to reports that Amazon plans to wade into the fresh food market and get deeper into general merchandise, threatening local retailers.
Citi analysts have warned that food supplier Amazon Fresh's entry into the local grocery market would be a "disruptive force"
However, developing a supply chain and dealing with Australia's lower population density in major capitals would make its entry "more challenging", the analysts say.
Citi sees Amazon as more likely to focus on its general merchandise categories, such as electronics and toys, as it gets started.
The search for sites may be brief, with the US group tipped to deal directly with the listed industrial giant the Goodman Group.
It houses some of Amazon's US centres and had already been named as hosting Amazon's data centres in NSW.
Australian retailers are worried about Amazon's ambitions as it has lodged applications for as many as 10 trademarks to protect its most advanced online shopping products, including its popular Amazon Dash and Echo tools.
Outgoing Wesfarmers chief executive Richard Goyder has repeatedly warned the US retailer will "eat all our breakfasts, lunches and dinners", and the group's entry could cost local retailers as much as $4 billion in sales.
Author:
Dave Mitchell
About: With years of experience David loves developing business specifically to help Entrepreneurs within the eCommerce Industry. David's passion is creating new platforms with our Mentoring team and seeing the success of Licensees at Elite eCommerce.
Unit 2 / 16 Rimfire Drive, Hallam, VIC, 3803