How Amazon plans to re-define Australia's retail landscape
Written on the 23 March 2017 by Dave Mitchell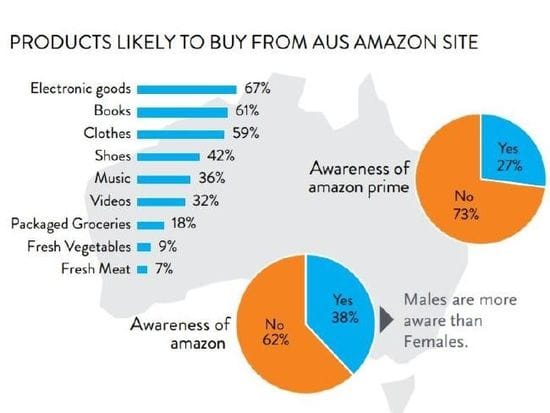 It was named after the Earth's largest river to imply size and scale and it's coming to Australia with plans to re-define retail as we know it.
By now you've heard a lot about how the arrival of Amazon will be a "gamechanger" that will "shake up" the retail market.
Here's a bolder prediction: Amazon's arrival in September will be ground zero for defining Australia's retail sector for generations to come. Major retailers that we have taken for granted and have taken themselves for granted, will be gone. Not on day one, but the arrival of Amazon will be the beginning of a brutal end for certain mainstays.
Those of us old enough to remember Mark Foys, Grace Bros, even Gowings know that nothing is certain except change.
Analysts say the demise of electronics retailer Dick Smith in 2016 was the canary in the coalmine. January 2017 saw clothing retailers Marcs and David Lawrence placed into voluntary administration citing deteriorating sales, market conditions and poor cash flow. The bloodbath continued with Herringbone, Rhodes & Beckett, Payless Shoes and Pumpkin Patch all struggling against variables including big international brands and free trade agreements.
Even the international brands that have disrupted the Australian retail market Uniqlo, H&M, Zara, Sephora, Gap are all operating on slim margins backed by big parent companies.
Macquarie Bank looked at Uniqlo Australia and revealed an EBIT of 1.8 per cent compared to 12.8 per cent in Japan, yet it expanded its local store count from six to 12 with more to come.
What's all this got to do with Amazon? Everything because Amazon is everything. Type literally anything you can think of into the Amazon search bar and you'll get surprising results.
Amazon quickly established a dominant position in electronics, books and music 20 years ago. The next phase was clothing, shoes and packaged groceries. They are now past the trial phase for fresh food in the US and will launch in Australia with all of it.
Three-quarters of Australians aged over 18 are interested in Amazon according to a Nielsen survey. That may be lower when they switch on the local website but even a small percentage of uptake is expected to push many retailers into the red.
This will be one of those disruptions that sees the end of stores that could once coast on a cherished reputation. Especially if the store is an understaffed shemozzle with the layout and presentation of an outlet store, and an online experience best described as poor by late 90s standards.
While our three major supermarkets have good instore experiences, anyone who has ordered groceries for the household knows it's a long process; an unstable process; and delivery is marred by frustrating time restrictions or general unreliability.
For retailers with deep structural problems to turn it all around by September is more snap than stretch.
Australian Retailers Association CEO Russell Zimmerman urged retailers to prepare now or be at the mercy of the "Amazon Effect".
"If you run your own brand name you would probably be considering how you engage with Amazon and how you can sell your product through Amazon.
"You need to work out how you can work with them rather than beating them because you won't beat them," he told the Herald Sun.
What effect is Amazon expected to have on local retail?
Wesfarmers Group Managing Director Richard Goyder has repeatedly warned that the US online retail giant will "eat all our breakfasts, lunches and dinners".
Analysts are predicting it could strip as much as four billion dollars in sales from local retailers like JB Hi-Fi and Harvey Norman.
A Nielsen survey has revealed that three-quarters of Australians aged 18 and above are interested in Amazon Australia, with 56 per cent saying they would buy products from it.
Electronics, books and clothes were the most likely products to be bought from Amazon, the survey found.
Amazon customers are expected to skew toward younger age groups and male shoppers.
Amazon Prime is a subscription service that provides unlimited free shipping, streaming video and music and unlimited photo storage. Currently Amazon customers in Australia are not able to subscribe to Prime, but 45 per cent of those surveyed said they're ready to pay for the service once local warehousing is available.
The Nielsen report into Australian consumer responses to Amazon reveals:
Amazon's US site converts almost one-in-two (49%) Australian visitors into sales the fourth highest behind eBay (78%), The Book Depository (74%) and The Iconic (53%).
A total of 56% also said they are likely to purchase from its Australian site and 45% said they would pay to become an Amazon Prime member to receive special deals, discounts and delivery perks.
In December 2016 Amazon Prime Video officially launched in Australia and across 200 countries. The global SVOD giant now offers Australians access to Amazon Original Series The Grand Tour, Transparent, Mozart in the Jungle, The Man in the High Castle and most children's series like Creative Galaxy, Gortimer Gibbon's Life on Normal Street, Tumble Leaf and Wishenpoof.
What Amazon plans to do in Australia
"We are going to destroy the retail environment in Australia," an unnamed Amazon employee told Watermark Funds Management chief investment officer Justin Braitling during a briefing.
Mr Braitling said Amazon's plan was to collect price points on everything before setting prices at a 30 per cent discount.
More than 100 new roles have been advertised in IT, marketing, sales and HR for starters. Amazon Australia staff currently occupy five floors of the 47-storey tower at No. 2 Park St, Sydney.
"You say you want a bunch of bananas, a dozen bagels from your local bakery, and a coffee maker delivered to your doorstep between 8am and 9am tomorrow? We say no problem," reads a recent job advertisement.
Amazon launch plans include:
Opening in September 2017 with general merchandise and Amazon Fresh to compete with Coles, Woolworths and ALDI
Set up "distribution and performance" centres in each state
Physical stores in regional areas only
Drop prices by 30% across all products
"Your margin is our opportunity" is Amazon's "motto" for Australia
Hi-tech staff less Amazon Go convenience store near its Seattle headquarters, believed to be a prototype of the model it plans to roll out globally. Walk in, swipe you card, take your goods
Amazon is already using robots in its newest fulfilment centres and developing unmanned delivery drones
How Amazon is already used in the US
Imagine a home system with voice activated lighting and music. Okay no huge leap, but what if that system also let you buy things? Anything. Shopping with your voice, from home, with next-day delivery.
Amazon Echo is such a hands-free voice-controlled device already available in US homes. Yes it controls household appliances, and is also connected to the wider Amazon ecosystem for shopping. Users can buy virtually anything using Amazon Echo but it is not yet available in Australia. Yet.
What Australian retailers are doing to prepare for Amazon
JB Hi-Fi
JB Hi-Fi chief executive Richard Murray dismissed the Amazon threat and claimed his low operating costs and competitive prices made JB Hi-Fi was ready to compete.
JB Hi-Fi had no plans to launch a points-based loyalty scheme, but plans to boost engagement with shoppers and improve service by building a database that included customer purchases and stored receipts and warranties.
Testing of the database started before Christmas.
"If you combine that with the lowest cost of doing business, great product and prices, that's a good spot to be in," Richard Murray told AFR.
Analysts and investors said the database would help protect JB Hi-Fi's existing sales and generate incremental revenues with targeted offers and deals to online customers.
Harvey Norman
Gerry Harvey is on a major PR offensive talking up their plan to focus on superior service and low prices.
This involves superior showroom presentation, flexible delivery options, and price matching.
Service offerings will also boast a strong exchange and repair program for customers to offset a faceless Amazon experience.
Woolworths
Woolworths has established an internal Amazon Response Unit to specifically deal with competition from Amazon Fresh.
The supermarket giant has engaged the services of US retail executive Kathryn Tesija to provide "coaching and insights" about Amazon.
Woolworths has already begun rolling out its strategy with ramping up the quality of its fresh produce and local supplies, with 96% of all fruit and vegetables sourced from Australia.
They've decommissioned the in-house technology infrastructure in favour of moving all systems into Microsoft Azure data centres to focus on the online shopping experience, rather than spending energy keeping infrastructure running.
David Jones
DJ's has flagged a loss making three year "transformative" plan to renovate the Elizabeth Street premises with a "premium food business". Working in collaboration with Neil Perry, it will leverage the supplier relationships of its South African parent company Woolworths.
The $200 million renovation costs will see a destination restaurant downstairs, and funded in part by the $360 million sale of the Market Street premises to Westfield.
The online shopping platform is under review to leverage its customer database for targeted offers.
The private label clothing range and the designer system that underpins it, is being tweaked prior to an online launch.
Merchandising systems were deemed outdated and are being upgraded in line with those used in South Africa.
David Jones is also moving towards trans-seasonal fashion lines and using long-term weather forecasts for its buying strategy to deal with the effects of Global Warming on shorter winter seasons.
Myer
The $600 million "New Myer" strategy announced in 2015 is a five-year plan that is billed as the biggest brand overhaul in the history of Myer.
$100 million of the $600 million was allocated to improving its online retail experience (which won the Roy Morgan Satisfaction Awards in 2016).
The focus is now on serving a valuable customer, which it has identified through data segmentation, and providing a more experiential, personalised interaction for the customer, whether that be online or in-store.
Myer is also focusing on high profile brands, including Top Shop, Seed, Nine West, Topshop, Mimco, French Connection, Veronika Maine, Industrie, MAC Cosmetics, homeware brands KitchenAid and Dyson.
Myer now incorporates online retail through its digital hub, which centralises Myer's click and collect services, plus offers free Wi-Fi and smart phone recharging services.
Additionally, a new Myer eBay store was launched with over 20,000 products available.
New shoe finder app was launched and has already enhanced in-store sales by 117 per cent with customers using the 2,500 iPads across the store network.
With a loyalty program of 5 million people, Myer partnered with Retail Oasis and Roy Morgan to analyse the behaviours of customers both inside and outside Myer.
Bottom line
Nobody will be able to compete with Amazon on price.
Australian retailers will need to differentiate themselves through their product ranges, merchandising, highly knowledgeable service and loyalty programs.
Small businesses must also become much more tech savvy to counter Amazon.
https://www.ipmg.com.au/news/amazon-plans-re-define-australias-retail-landscape/
Nielsen Omnibus survey results infographic. (Source: Nielsen)
Author:
Dave Mitchell
About: With years of experience David loves developing business specifically to help Entrepreneurs within the eCommerce Industry. David's passion is creating new platforms with our Mentoring team and seeing the success of Licensees at Elite eCommerce.
Unit 2 / 16 Rimfire Drive, Hallam, VIC, 3803