Why choose an Amazon business over a coffee shop venture?
Written on the 3 September 2018 by Dave Mitchell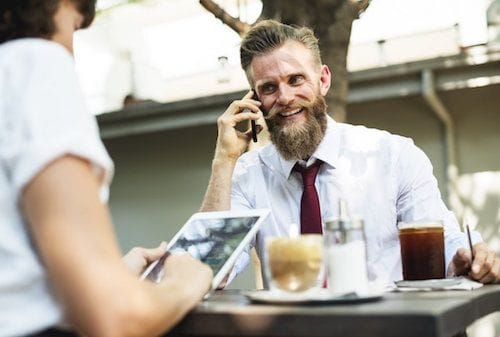 There are 8 great reasons to consider an Amazon Online business over the bricks and mortar of a Coffee Shop
#1: YOU'RE THE BOSS
As an Owner, everything begins and stops with you. Every one of the choices, all the fortune, and all the agony that accompanies your business, is yours. Both an online store and a coffee shop have a multitude of decisions to make every day, but the biggest difference is that with a coffee shop you will have staff. Which means, hiring and firing. This probably won't be suitable for some individuals as not all of us have the skills and know-how to be a productive manager.
With an online business, you have no staff, you have no payroll, you have no holiday leave, you have no office politics.
#2: CAPITAL CAPITAL CAPITAL
All business needs capital to get them off the ground, some more than most and worrying about money and sustaining your business is a big issue for a lot of business owners, especially the traditional bricks and mortar styled business.
With a coffee shop business, you can be plagued with money issues as your rent will always be due, you will need to pay your employees and your vendors. To start you need to fit-out your store, sign writing, furniture and equipment, uniforms and the list continues.
With an Amazon online business, yes you still need capital but not to the extent of a coffee shop. Your capital is to cover things like a website, products and marketing. There is no rent or employees as you can work from home and in fact, you can claim your home and expenses on tax what a bonus!
#3: STAFF
Although we have mentioned staff previously, it is a very large portion of running a coffee shop business. They are the guts of a successful business and take up a large chunk of your revenue, not to mention having to understand income tax, superannuation and workers compensation insurance. But not only that, staff brings another level of complexity as you as the Owner. You need to now become a HR Manager as well. Understanding personnel issues, understanding the rights and needs of your employees and being on top of the existing laws that protect you and your business, all the while monitoring your brand and reputation that sometimes is in the hands of others.
Kickstarting your Amazon online business only means understanding yourself and your business, to start you don't need staff.
#4: IT ALL GOES PEAR-SHAPED
Business fails and the statistics on start-ups failing is sometimes not endearing. However, it is something that we need to mention as we compare coffee shops and online ventures.
When you are starting a business you invest your money, your time and your effort and it is a risk that you take when starting any venture. But you can minimise this risk with the type of business you choose, and although you will lose the same with a coffee shop or online business, the amount is much different.
On average to start up a coffee shop is between $100,000 to $200,000. According to the Census survey, 40% of small and medium eCommerce companies began the business for under $5K and 64% of organizations have spent less than $10K.
It is a substantial risk any business owner takes but with an eCommerce business you can set the risk at the budget you want to spend.
#6: EARNING POTENTIAL
You are limited in a coffee shop by the number of coffees and food you can make and sell each day, and you are limited by the number of seats or tables you are able to serve in your physical shop. An Amazon business has no limit. According to a survey done by Web retailers in 2016, 8% of Private Label sellers made over 1 Million in sales and 1% made over $10 Million in sales! Last year Jeff Bezos, CEO of Amazon reported that 140,000 people made over $100,000 in sales in 2017, that is a heap of people making a lot of money, most of whom have only outlaid a small amount of initial cash to build a substantial business.
#7: PORTABLE BUSINESS
A coffee shop is a 6 or 7 day per week job that requires opening at 6 am and closing late. You are always working in the same building with the same people with lots of repetitive cleaning and the management of customers who are not always happy! eCommerce gives you an unparalleled legitimate opportunity to work from anywhere at any time while earning money 24 hours of each and every day.
#8: TIME
All businesses take time and the build-up to the launch, even more so. From writing your business plan to coordinating your marketing and with a coffee shop, organising the shop fit out, hiring staff, it is all very time-consuming. But what about after the launch? Unless you have the capital to hire a manager, you as the coffee shop owner are working 6-7 days a week to get your business up and running. People run coffee shops.
With an online business, yes there is time in the setup and the product development stage, but once you have launched a lot of the daily running of the business can be automated. Your business works while you are sleeping.
If you would like to find out more on how to set up and run your own eCommerce business, then contact us today!
Author:
Dave Mitchell
About: With years of experience David loves developing business specifically to help Entrepreneurs within the eCommerce Industry. David's passion is creating new platforms with our Mentoring team and seeing the success of Licensees at Elite eCommerce.
Unit 2 / 16 Rimfire Drive, Hallam, VIC, 3803